Senior Credit Risk Analyst, Andy takes on the London Marathon
A few weeks ago, Andy, a Senior Credit Risk Analyst here at Specialist Motor Finance, donned his running shoes and took on the mammoth task of running the London Marathon.
Raising money for two wonderful causes, Macmillan Cancer Support and Mencap, Andy journeyed to London to take part in the iconic event, taking along is beloved dog (and chief trainer) Haru, for that all-important last-minute pep talk before the race began.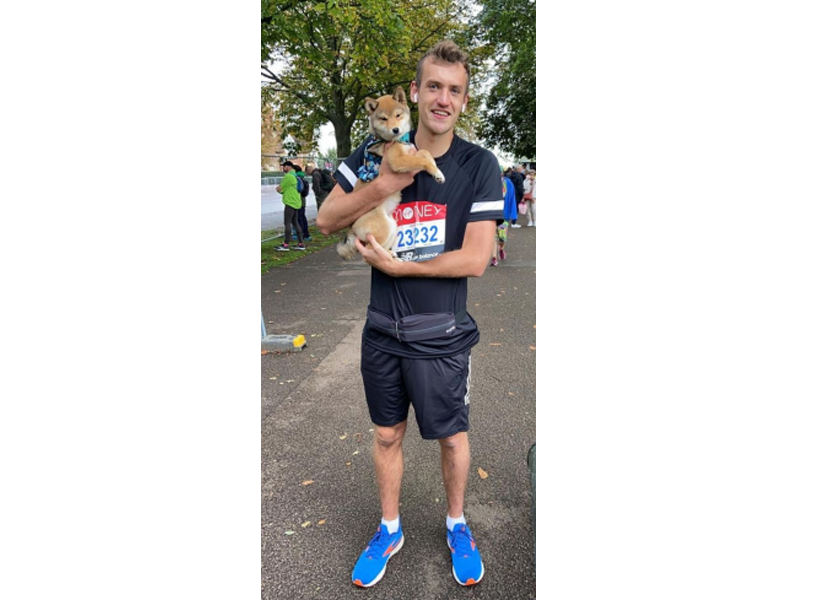 Andy shared some of the wisdom he'd received before the race, these included:
Stick to your own pace, don't get carried away with the crowd of fellow runners right at the beginning
Don't overtake other runners because you'll run much further than necessary
But, of course, the excitement of the race and the thrilling atmosphere at the start line meant that Andy admittedly forgot these rules as soon as the race started.
During the race Andy achieved some impressive running stats that surpassed his goals for the day. He ran his first few kilometres in under five minutes (beating his target of 6.5 minutes per km), he went on to complete 10km in just 53 minutes and reached the half way point at just under the two-hour mark. At that point Andy began to experience dreaded leg cramps, and was faced with a very painful few hours.
But ultimately, he completed the marathon at 4 hours and 45 minutes, a massive 15 minutes fast than his target of 5 hours, not to mention according to his Strava, he ran an additional 1.6 kilometres!
Speaking of this amazing achievement and those who supported him, Andy has said:
"A big thank you to everyone who donated, together we have managed to raise over £900 for Macmillan and over £400 for Mencap. This doesn't include the matched donations Virgin Money will add for anyone who donated last week. I'm really happy with how much has been raised and it will all go towards helping those who need it."
On behalf of the whole SMF team we would like to say a huge congratulations to Andy! If you would like to donate to these fantastic causes, it's not too late, click here.